April seems to be the one month that goes by way too quick for me. Not cool, but here's what's been up:
Birthdays
Earlier this month, I turned 26. Original plan was to go down to Disneyworld, but that had to be put it off for a more important trip down the line. So basically, I used my day off to redeem all the free food received in my e-mails. Idea sounded good at the time, but by the evening, I'm pretty sure I had food sweats, lol. And it didn't help that my buddies randomly came over with a cake and a case of Molson.
Here's the cake: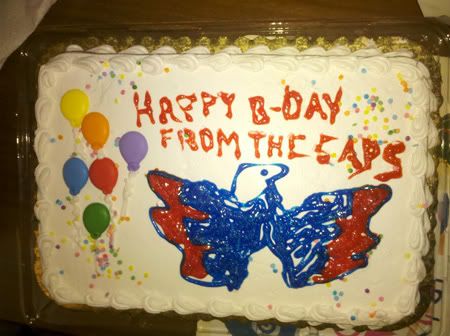 As we speak, the "weagle" portion of this cake still sits in my fridge. I think the unnecessary birthday food binge is preventing me from ever eating it.
Two weeks later, I went up to Montreal with my sister to celebrate my cousin's
debut
, which is the Philippine equivalent to a
quinceañera
, only it happens when a girl turns 18 and not 15. Had a really fun time up there, granted it only lasted two-and-a-half days. In hindsight, this was this better option over Disneyworld. Would've been nice to hit the Magic Kingdom on my birthday, but my cousin only turns 18 once. So Disney can wait another year, though I'm starting to think postponing birthday trips to Disney is turning into a running gag (second straight year I've had to put it off, lol).
Pics from that weekend trip:
http://tinyurl.com/3b26jcl
NHL Playoffs
My favorite time of year, and now that Round 1 is over, here's my thoughts/opinions...
Washington-NY Rangers:
Glad the series wrapped up in 5 games. Don't think I could've handled a fourth straight year of Game 7s. There's so much justification in this series, as it proves those to blowout losses to the Rags meant absolutely nothing.
Boston-Montreal:
Kinda sucks that Montreal didn't advance, as I was really looking forward to the rematch from a year ago (I definitely think the Caps still had something to prove with the Habs). Plus, former our former Caps Captain Jeff Halpern was totally making noise in this series. Would've been interesting to see what he could've done against his former team.
Philadelphia-Buffalo:
Totally pulled for the Sabres in this one. Philly's goalie carousel is a joke in my opinion.
Pittburgh-Tampa Bay:
The "nothing fight" in my eyes. Had the Pens won, Matt Cooke's suspension would've been lifted, and I'd rather not see that ass clown play hockey ever again. On the other hand, a Tampa win only gives merit to Steve Yzerman as a "genius" GM, and that worries me, 'cause last time he GM'd something, Canada won Olympic gold.
Oh, and Guy Boucher's face creeps me out.
Vancouver-Chicago:
Mainly routing for Vancouver in this one, though it would have been funny had the Hawks completed that comeback.
San Jose-Los Angeles:
Wasn't really following this series since the games aired late on my end. Though if I had to pick, I'd probably would have routed for the Kings, since I consider the Sharks perennial chokers, lol.
Detroit-Phoenix:
Either team would've been fine. I like the Wing's postseason consistency (I mean 20 straight years?!), but I also like what's become of the Coyotes.
Anaheim-Nashville:
Pulled for the Predators if only because of Mike Fisher, who's married to my guilty pleasure, Carrie Underwood. :p
Work
Things are hit or miss at the retail job. I'm finally able to properly analyze people gaits, though now, I've got to familiarize myself more with the store's gadgets and apparel. At least it's gotten to the point where a key to the store has been entrusted to me. Nice!
As for the Graphic Design business, Moe and I have doubled our manpower, adding some associates to fill in the roles of Development Research and Sales/Marketing. Glad I won't have to juggle multiple positions there, especially since taking up a second job.